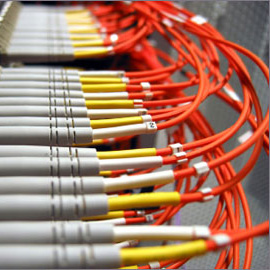 Alliance Wire & Cable has supplied Fiber Optic Contractors and Integrators with their fiber optic cable and connectivity requirements since it was established in 1998. The Alliance Wire & Cable experts can help you determine the best product for your application.
A sample of our product offering is listed below. Please contact us with your specific needs and let us get what you need when you need it.
Products Include:
Fiber Optic Cables

Multi/Single Mode
Hybrid Fiber + Category Cables
Indoor/Outdoor Cables
Self-supporting Cables
Aerial/Burial
Riser and Plenum Rated
Amored and Harsh Environment Applications
Custom Constructions
Innerduct

Fiber Enclosures

Wall Mount and Rack Mount
Coupling Panels
Specialty Adapter Plates
Splice Trays
Labeling Accessories

Fiber Optic Connectivity

Connectors - Standard and Pre-Polished
Switches
Media Converters
Patch Panels
Patch Cords & Pig Tails
Adapter Panels
Bezels, Couplers and Adapters

Fiber Tools & Testers

Fusion Splicers
Network Analyzers
Prep Tools For:
Cleaving, Stripping and Cleaning
Pre-Terminated Assembly
Just tell us your fiber and connector type, length and we will provide a finished assembly with a pulling eye on 1 or both ends. Tested and ready to be pulled.
Limited space in pipe or conduit? We can "stagger" the connectors to minimize the O.D. and make for an easy pull.