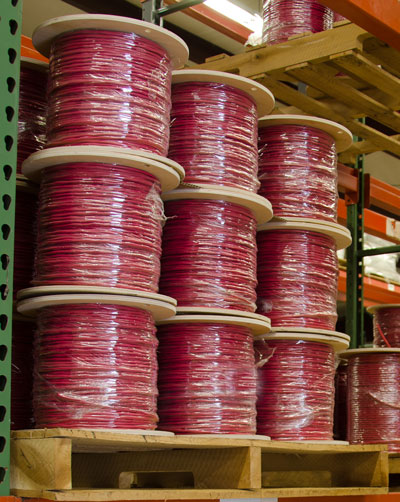 Alliance Wire & Cable has been a favorite of Security, Fire, and Life Safety Contractors since it was established in 1998. With immediate access to more than $2 million of inventory at our disposal, you can count on Alliance Wire & Cable for quick delivery.
Our knowledgeable team can help you source the right product for your project.
A sample of our product offering is listed below. Please contact us with your specific needs and let us get what you need when you need it.
Products Include:
Security Cable & Control Cables

12 - 24 AWG
Multi-conductor and Multi-Paired
Shielded, Non Shielded
Riser or Plenum rated
Special colors and striping

Electronic Cables

14 - 26 AWG
Multi-conductor and Multi-Paired
Shielded Foil or Foil/Braid Shield
Low-Capacitance
Riser or Plenum rated
Special applications/Harsh Environments

Home Automation Cable

14 - 18 AWG
High Strand count
Oxygen Free copper
Hybrid Coax and Category 5 or 6 * Lighting Control Cables
Automation Cables

Fire Alarm Cables

12 - 18 AWG
Standard and Mid-Capacitance
Shielded, Non Shielded
Riser or Plenum rated
Outdoor & Direct Burial

Coaxial Cables

CATV cables
CCTV cables
LMR Low Loss cable
Riser, Plenum or Outdoor rated
Direct Burial
Special applications/Harsh Environments